Margaret Ninsin
President of the Intellectual Capital Institute of Africa (ICIOA), Ghana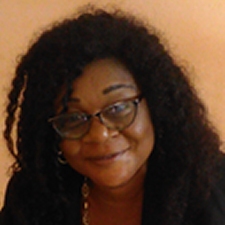 Dr. Margaret Ninsin is the President and Founder of Intellectual Capital Institute of Africa, an organization that seeks amongst all things to raise funds for development projects in African countries. Margaret Ninsin is OLMEC'S General Counsel.
Margaret is the Chief Executive Officer of Mnissi Law Consult Unlimited. This firm also specializes in Intellectual Property Practice. She is also a board member of Zimbabwe Empowerment for Development Trust (ZIMED). She is also a volunteer and director of Legal and International Programs of the Nelson Mandela Poverty Reduction International Foundation (NEMPRIF) a non-profit organization with a vision to assist youth entrepreneurs to stand on their feet in Agriculture and other valuable ventures. She has worked with the World Health Organization and has participated in several conferences organized by the World Bank and other International bodies. Margaret is Involved in counseling executive teams in regulatory compliance matters. She has extensive legal experience in a number of reputable law firms and companies. She was the Legal Advisor and project consultant for Powerhouse (a mining firm). At this firm her work was is in the area of Mining and Environmental Issues and also gave counsel on project matter. She is a Legal Consultant for Unifield Gold Ghana, where she advises on corporate governance and regulatory matters. In addition, she advises companies in their transactions and handles litigation as well as other corporate and regulatory matters.
Margaret was appointed as a visiting scholar in the Faculty of Law Library Brisbane, QLD, Australia, while there, she did work-study visits in the following organizations, Queensland Justice and Attorney Generals, Queensland Legal Aid, Queensland Law Society, Queensland State Archives, Phillips Fox Lawyers, Minter Ellison Lawyers, McCullough Robertson Lawyers, Clayton Utz Lawyers
Margaret is an advocate for the Intellectual Property Rights of Indigenous knowledge especially, African Tropical Medicines. In 2014, she was one of the key experts from around the Globe who collaborated in the Research on indigenous Knowledge. This Second Indigenous Knowledge Forum brought together key speakers from around the globe representing nations with either existing legal frameworks or nations in the midst of developing such regimes for the protection of indigenous knowledge and culture. This research resulted in a publication entitled "Indigenous Knowledge Forum-Comparative Systems for Recognizing and protecting Indigenous Knowledge and Culture" edited by Prof. Natalie Stoianoff, Director Intellectual Property Program, University of Technology, Sydney. This publication is 'an up to date International Research' in the Field of Indigenous Knowledge and its protection at Law. It is published by LexisNexis, Australia. She contributed a chapter titled "Protecting Indigenous Knowledge and Culture: The African Experience"
Margaret founded Hope International Trust-Zimbabwe, a non-profit organization that assists ex-women offenders and juveniles in difficult circumstances. She is the President and founder of Dawn of Hope –Ghana, another non- profit organization that specializes in building libraries for disadvantaged areas. She is passionate about improving literacy among rural folk, creating awareness of indigenous knowledge, corrections and youth counselling. Margaret is a member of the college for arbitrators, an annual international arbitration moot competition for law faculties worldwide. This is organised for the centre for international legal studies, Salzburg, Austria. She is a Board Member of the Cerebral Palsy Football Association. She is also a fully ordained & Licensed minister of the Christian Religion.